History
Srirangam Bharatha Natyalaya was founderd by Smt.Revathi Muthuswamy in the year 1973 at Srirangam. Real talent backed by sincere approach and hard work finds recognition without fail and today the Bharatha Natyalaya is one of the premier institutions of South India promoting the finest in classical dance and Indian culture.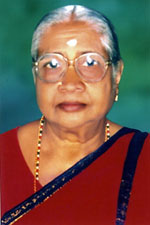 Smt.Revathi Muthuswamy who had her initial training under her mother Smt.Alamelu Seetharaman and then Guru Shri.T.S.Chandrasekaran, has kept close to the priceless tradition of Bharathanatyam while giving ample demonstration of her individual talent by producing dance dramas on Indian mythology and legends. Sensing the need for bringing out the artistic talents in the younger generation, she has been producing DANCE DRAMAS that have been making waves not only in Tamilnadu but also in other Indian states like Himachal Pradesh, Uttar Pradesh, Delhi, Goa, Orissa, West Bengal, Andhra, Kerala and Andamans. She has produced 40 dance dramas, some of them got the grant of Tamil Nadu Iyal Isai Nataka Mandram. Her troupe has toured all over India and abroad like Singapore and Malaysia and given more then 2000 programmes successfully.
It is to be mentioned with great pride that Smt.Revathi Muthuswamy has displayed an outstanding dance serial "Pannum Bharathamum" running upto 111 episodes, in Doordharshan Pothigai T.V, all of them based on elaborate research in Tamil literature. A recipient of several awards including the Kalaimamani Award of Tamilnadu Government, Smt.Revathi was a Senate Member of Bharathidasan University and a member of the Faculty of Fine Arts, Annamalai University.
Guru. T.S. Chandrasekaran
Revathi's guru T.S. Chandrasekaran has been a full fledged teacher of classical dance for the last half a century. Several students have had their arangetram after being trained by him. At present he is the Chief Natyacharya of Srirangam Bharathanatyalaya. He is credited with the honour of training these girls having choreographed the traditional items in the Arangetram.