Awards
State Award of "Kalaimamani" for the Best Dance Drama Teacher presented by TamilNadu Iyal Isai Nataka Mandram, Govt. of Tamil Nadu in 2000.
Award by Rotary Club of Anna Nagar, Madras on 28.11.1992.
Outstanding Dance Institution Award and Best Dance Teacher Award presented by Padhmabhushan Dr.Padma Subramanian during International Women's Day on 08.03.1993.
"Natya Thendral" Excellence Award for outstanding Bharatha Natyam dance artist presented by All India University Tamil Teachers National Seminar, Trichy in 1997.
Maragatham Sankara Narayanan Trust Award at Music academy Chennai in felicitation to the Kalaimamani Award in the year 2000.
"Natya Pracaryani" Award presented by Raja's College of Sanskrit & Tamil Studies Thiruvaiyaru in 2000.
Certificate of Bhaaratha Kalachara Kappalar presented by Hanuman Shena a spiritual & Cultural Organisation in 2001.
Kalai Kaviri Award for Out Standing Service in field of Bharatha Natyam presented by Kalai Kaviri College of Fine Arts, Trichy in 2002.
Muthamizh Vani during Tamil Isai Festival of Vani Vilasa Sabha, Kumbakonam in 2003.
Uthra Sree Award by Uthra Mother Sangam, Srirangam on 16.02.2003.
Best Dance Teacher Award by Kanchi Shankara Mutt, Kanchipuram 2004.
Kalaimamani T.S.Renganayaki Ammal Award presented by Thilagavathiyar Thiruvarul Aadhinam, Pudukkottai on 11.12.2005.
Tamilnadu Brahmin Association Award for Best Dance Drama Choreographer, Silver Jubilee Year 25.12.2005.
Marumalarchi Arts Academy presented the Award for Outsanding Contribution in the field of Bharathanatyam at Music academy Chennai on 20.05.2006.
Natya Kala Rathna Award by Sri Raagam fine arts, Chennai on 16.12.2006.
Outstanding Dance School Award presented by Tamilnadu Cinema Kalai Mandram, Chennai on 01.01.2007.
Natya Sudaroli Award presented by Tamilnadu Cinema Kalai Mandram, Chennai on 01.01.2007.
Virudhu Petramaikkana Virudhu a felicitation award by Nalli Kuppusamy Chettiar, Chennai om 04.01.2007.
Sri Vidhya Seva Rathna Award presneted by Sri Lalitha Samajam, Thiruengoimalai on 29.03.2007.
Best Achiever Award by Thenindhiya Kalai Panbattu Kazhagam on 18.11.2007.
Appreciation Award by KINTA Indian Association, IPOH - PERAK – Malaysia on Dec 2007.
Best Achiever Award by Anbu Palam, Chennai during Diamond Jubilee Celebration of Independence on 28.01.2008 at Chennai. Award presented by Three Vice Chancellors and Thiru. Kalyana Sundaram.
Best Achiever in the field of Bharathanatyam Award by All Women's Association of Trichy and Shrimathi Indira Gandhi College on 08.03.2010.
Appreciation Award for service in the field of Bharathanatyam by TAMBRAS, (Regd) Trichy District on 19.12.2010.
Life Time Achievement Award given by Marumalarchi Arts Academy and Sivaji Cine Creation, Chennai on 28.05.2012.
Niruthiya Choodamani Award by Bharathi Yuva Kendhra, Madurai – Presented by H.H Jayendra Saraswathi Swamigal of Kanchi Sangara Mutt at Thiruvanaikaval , Trichy on 08.10.2012.
Narthana Mamani Award by Shenbaga Tamil Arangu, Srirangam on 31.05.2013.
Natana Kalanithi Award by Mandahaasha Mandali, Srirangam on 07.12.2014.
Paramacharya Award Guru S-amarpanam by Call Ezee at Trichy 05.09.2014.
No.1 2015 Trichy by Tamilar Kalai Peravai, Trichy.
Bharatha Rathna M.S.Subhulakshmi Award by TAMBRAS Trichy on 2015.
Rasiga Ranjana Sabha by Centenary Celebration Award Appreciating Outstanding Service in the Field of Arts, Trichy on 23.05.2015.
Bharatha Natya Samrat b Akshayam Seva Trust, Salem on 2016.
Narkalai Vithagar Award by Nataka Nadhigar Sangam, Trichy on Chennai 2016.
Nataka Tamil Mamani Award by Shenbaga Tamil Arangam on 20.05.2017.
Sri Ramanujar Virudha, Ramanujar's 1000th year Celebration by Marumalarchi Arts Academy, Chennai on 30.09.2017.
Sri Natana Kalamani Virudhu Award by Nataka Nadigar Sangam, Trichy on 2017.
Membership Details
Member
:
All India Women's Conference
Director
:
Lioness Club of Tiruchirapalli (Host)
Member
:
Senate, Bharathidasan University Tiruchirapalli (1998 - 2001)
President
:
Abirami Mandali, the registered Women's Voluntary, Service Organisation, Srirangam.
President
:
Lioness Club of Tiruchirapalli (1988-1989)
Chairman
:
Board of University Examinations for Master of Fine Arts & Bachelor of Fine Arts, Bharathidasan University.
Member
:
Divisional Level Complaints Committee Southern Railway.
Member
:
Faculty of Fine Arts, Annamalai University.
Member
:
Tiruchirapalli Arts Society.
Member
:
University Representative Rajah's College of Sanskrit and Tamil Studies, Thiruvaiyaru, TamilNadu (1998 - 2001).
B-High Grade Level Artist
:
B - High' All India Radio, Tiruchirapalli. Grade Artist In Drama.
Members
:
Post Forum, Srirangam.
---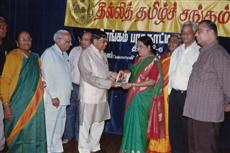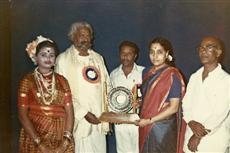 ---